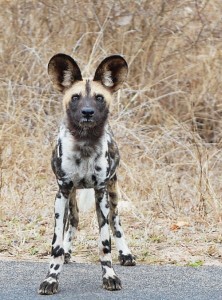 These African Painted Dogs, also known as African Wild Dogs (Lycaon pictus) are some of the rarest in the world. They're nearly extinct, with only about 3,000 known to exist.
Fortunately, there are several successful projects dedicated to preserving the species, and the BBC recently reported new litters born to the five packs of these colorful dogs at the Port Lympne Reserve, near Ashford, England.
Check out  how these unusual dogs look in the wild. Watch a short clip on the next page of a mommy with her pups!
Photos: Arno Meintjes and David Schenfeld on Flickr