If a child is attached to their parent sometimes it's difficult if the parent has to leave them, even if it's temporary. This is especially true if the child is old enough to stay in the car alone but still is young enough to deal with anxiety while their parent runs into the post office to mail a letter, for example. Even though the parent is only going to take a few minutes, the child may think it's going to take a lot longer and begins to cry!
Sometimes a pug can act like a child, don't you think? Okay, let's be real. A lot of the time a pug acts like a child. LOL. Most pugs are extremely dependent on their mom and dad and can't bear it when they're left anywhere, even if it's just for a moment.
That's exactly how two pugs feel when dad has to leave them in the car. You'd think they'd be okay (especially with their mom inside the car with them!), but that's definitely NOT the case. Captured on video (which you can check out at the end), how these pugs react is something you can't miss.
It all starts out like this. Two pugs are enjoying a ride in the car on mom's lap. They look so comfy even though they are wondering where they are going.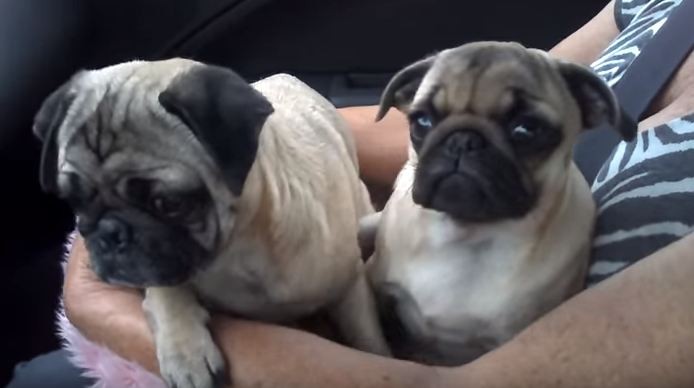 This comfy ride in the car doesn't last for long, however. The pugs are much too smart and know that their humans are up to something.
Just wait until you see what happens next! And don't forget to watch the video at the end so you can see how these pugs really freak out — trust me, it's crazy!