The  Food and Drug Administration (FDA) issued a recall on April 22nd on the product pictured below, the Nylabone Puppy Starter Kit and this is serious business. These popular chew toys are potentially contaminated with Salmonella.
In their recall statement, the FDA says:
"TFH Publications, Inc./Nylabone Products, of Neptune, NJ is recalling one lot of its 1.69 oz. package of the Nylabone Puppy Starter Kit dog chews because they have the potential to be contaminated with Salmonella. Salmonella can affect animals ingesting the product and there is risk to humans from handling contaminated products, especially if they have not thoroughly washed their hands after having contact with the products or any surfaces exposed to these products.

…rarely, Salmonella can result in more serious ailments, including arterial infections, endocarditis, arthritis, muscle pain, eye irritation, and urinary tract symptoms. Consumers exhibiting these signs after having contact with this product should contact their healthcare providers."
The recalled product is a 1.69 oz. package marked: Lot #21935, UPC 0-18214-81291-3. It has an expiration date of 3/22/18 marked on the back of the package. The product was distributed in the U.S. and Canada.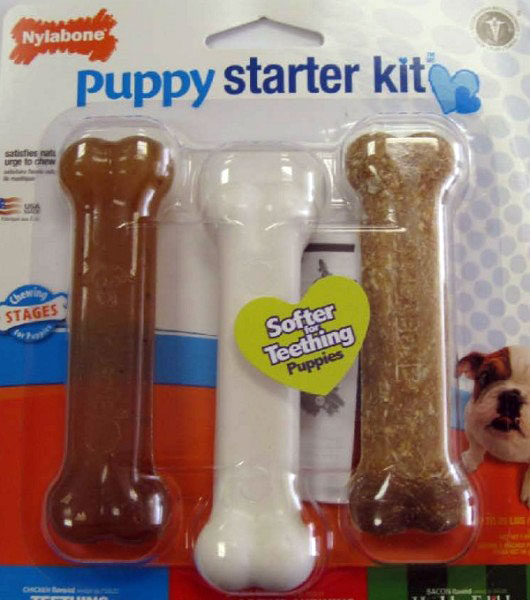 So far, the FDA has not reported any instances of illness caused by the Puppy Starter Kit, but if you have bought the product, make sure to dispose of it right away! Bring proof of purchase to the store where you got the product to have them process a refund for you.
Salmonella infection typically presents symptoms such as nausea, vomiting, diarrhea or bloody diarrhea, abdominal cramping and fever, so it's not something to risk!