You know your puppy is teething when she's chewing on almost everything in site and is acting a little bit more irritable than normal. Most puppies teeth in between three to six months old and when they do they'll lose their baby teeth just like humans and have adult teeth grow in their place.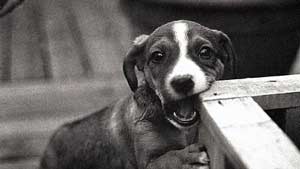 When you do catch your puppy chewing on things — that will be quite frequently — there are a few things you can do. One is to distract your puppy by giving her something else to chew on besides the furniture. Another is to invest in a bitter apple spray that will taste horrible if she tries to chew on things she's not supposed to.
Wanna know more puppy teething tips? Head on over to the next page!
Image Source: Flickr / via sunsets_for_you